December 21, 2022, City & County Building of Denver, 5-7 PM 
Each December, the Denver community comes together on the longest night of the year to honor those neighbors who passed away in the preceding year while experiencing homelessness. This year's We Will Remember: Homeless Persons' Memorial Vigil took place on Wednesday, December 21st from 5-7 PM outside the City and County Building of Denver. For 33 years, the Coalition has hosted this event in honor of those who have died in the previous year. For many, this is service to mark their death.
For the December 21 event, luminary memorials were placed outside the building, each with the name of an unhoused neighbor who passed. In addition, the names of the deceased were read out loud and broadcast throughout the event and a eulogy by Randle Loeb was recited.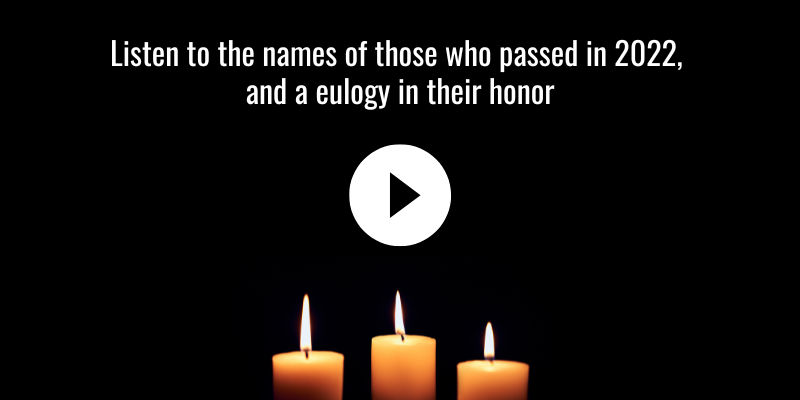 Representatives from partner organizations joined Coalition President & CEO John Parvensky in reading the names for the audio recording, including Mary Glittenberg of The Gathering Place, Brother James Patrick "JP" Hall of the Rocky Mountain Refuge, Emily Sepulveda Wheeland of The Delores Project, Theresa Miller of The Gathering Place, Angel Hurtado of the Volunteers of America Colorado, Christina Carlson of Urban Peak, Christian Nesbitt of The Gathering Place and, Elisabeth Francis of St. Francis Center.
Thank you to everyone who joined us on Wednesday, December 21st outside the Denver & City County Building located at 1437 Bannock Street. The vigil program with all names listed is located here.
If you would like to examine the data of the deaths of people experiencing homelessness, please view the 2022 Death Review here.