Advocate with Us
Take Action Now
Join our network of advocates who are speaking up and taking action on behalf of people at-risk of or currently experiencing homelessness in Colorado and across the country.
Legislative Session Wrap-Up Coffee Chat
Join Colorado Coalition for the Homeless for a virtual legislative session wrap-up event. Staff, clients, community members, and partners are invited to join a conversation on the outcomes of our priority bills, including some big wins for housing, health, and public benefits in Colorado. Click the button below to register for the event on Thursday, May 26th, from 5:00-6:30pm. 

Join Our Advocacy Network
Join the Advocacy Network to help us challenge the mechanisms that perpetuate homelessness. As an Advocacy Network member, you can help shape the public policy process through citizen lobbying, assist with voter registration, support key ballot measures, and engage in special projects like the Denver Basic Income Project. Our goal is to make advocacy easy, fun, and meaningful.  
View Advocacy Network training HERE.
Sign up for the Advocacy Network HERE (be sure to affirm that you have viewed the training).
Our 2022 Legislative Priorities
To view our 2022 legislative priorities, click here, or see below. 
Learn more about HB22-1083, the Colorado Homeless Tax Credit (HCTC), which upgrades and enhances the current enterprise zone contribution tax credit that is used to support organizations that serve the homeless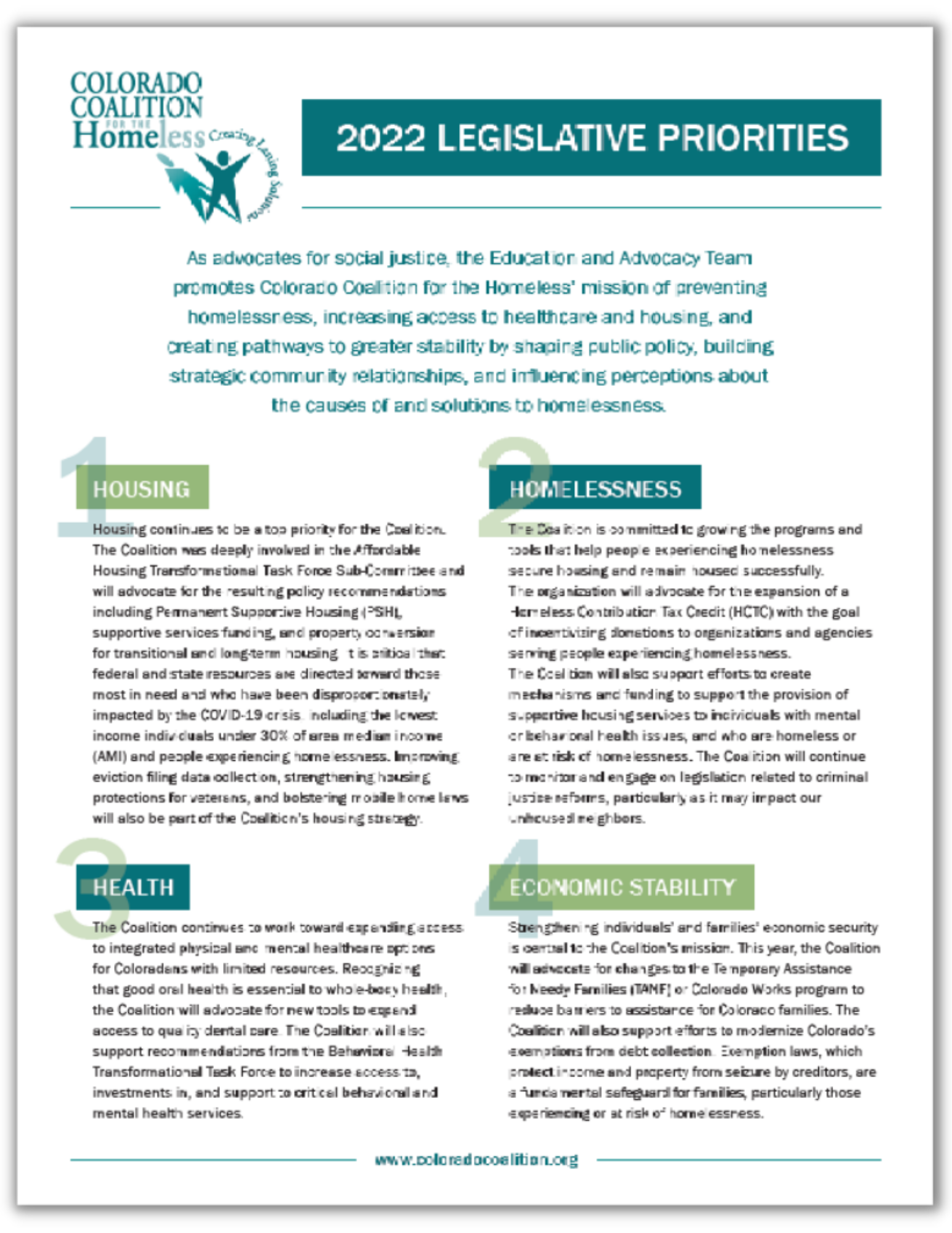 In order to support the Coalition's work to provide integrated housing, healthcare, and support services to clients, the Education and Advocacy team explores and challenges the mechanisms that perpetuate homelessness in our communities.  
HOUSING
Housing continues to be a top priority for the Coalition. The Coalition was deeply involved in the Affordable Housing Transformational Task Force Sub-Committee and will advocate for the resulting policy recommendations including Permanent Supportive Housing (PSH), supportive services funding, and property conversion for transitional and long-term housing. It is critical that federal and state resources are directed toward those most in need and who have been disproportionately impacted by the COVID-19 crisis, including the lowest income individuals under 30% of area median income (AMI) and people experiencing homelessness. Improving eviction filing data collection, strengthening housing protections for veterans, and bolstering mobile home laws will also be part of the Coalition's housing strategy.
HOMELESSNESS
The Coalition is committed to growing the programs and tools that help people experiencing homelessness secure housing and remain housed successfully. The organization will advocate for the expansion of a Homeless Contribution Tax Credit (HCTC) with the goal of incentivizing donations to organizations and agencies serving people experiencing homelessness. The Coalition will also support efforts to create mechanisms and funding to support the provision of supportive housing services to individuals with mental or behavioral health issues, and who are homeless or are at risk of homelessness. The Coalition will continue to monitor and engage on legislation related to criminal justice reforms, particularly as
HEALTH
The Coalition continues to work toward expanding access to integrated physical and mental healthcare options for Coloradans with limited resources. Recognizing that good oral health is essential to whole-body health, the Coalition will advocate for new tools to expand access to quality dental care. The Coalition will also support recommendations from the Behavioral Health Transformational Task Force to increase access to, investments in, and support to critical behavioral and mental health services.
ECONOMIC STABILITY
Strengthening individuals' and families' economic security is central to the Coalition's mission. This year, the Coalition will advocate for changes to the Temporary Assistance for Needy Families (TANF) or Colorado Works program to reduce barriers to assistance for Colorado families. The Coalition will also support efforts to modernize Colorado's exemptions from debt collection. Exemption laws, which protect income and property from seizure by creditors, are a fundamental safeguard for families, particularly those experiencing or at risk of homelessness.
Meet Your Elected Officials
Federal Officials
Learn more about your elected officials in Congress and how to contact them.
Contact your Colorado Senators
Contact your Colorado Representatives
State Elected Officials
Learn more about your Colorado General Assembly.
Find the legislators that represent YOU, how to contact them, bills they've introduced, committees they serve on, and political contributions they've received.
Denver City Elected Officials
Contact your members of Denver City Council.
Find free, factual, unbiased information on all your elected officials at www.votesmart.org
CCH Properties and their Elected Officials
See who represent's the Coalition's many properties Here.
Learn How to Advocate
Who is an Advocate?
An advocate is passionate about a specific issue and works to influence others to support their cause. There are many ways to advocate. This can range from sending an email or making a phone call, to asking legislators to a coffee meeting, or even testifying.
When planning to speak with a policy-maker, remember to:
Be prepared and educated
Be concise
Be compelling
Look for a compromise
Stay professional
Do not send nasty emails or messages
Want to learn how to lobby? Check out LOBBYING 101 from the National Coalition for the Homeless.
How to Become a Successful Advocate
Know the Current Events
Sign Up for Our Emails! 
Read, learn, connect. Read our weekly Homelessness in the News emails on issues impacting people experiencing or at risk of homelessness. By signing up for Homelessness in the News, you will also receive Action Alerts on legislative issues as they arise throughout the year. Knowing is half of the equation—participating is the other.
Know Your Elected Officials
Take a moment to visit our Meet Your Elected Officials section above. There, you can find who each of your representatives are and how they traditionally vote on issues that are important to you. Being informed arms you with the information on when and how to engage with your elected officials in your own personal advocacy efforts.
Know Our National Partners
Organizations across the country are joining in the fight against homelessness and greater access to housing and health care. Find more information and resources about national organizations and their advocacy efforts here: National Organizations
Statement of Nonpartisanship
The Colorado Coalition for the Homeless is a private, nonprofit organization recognized as exempt from Federal income tax under Section 501(c)(3) of the Internal Revenue Code. The mission of the Colorado Coalition for the Homeless is to work collaboratively toward the prevention of homelessness and the creation of lasting solutions for homeless and at-risk families, children, and individuals throughout Colorado. CCH advocates for and provides a continuum of housing and a variety of services to improve the health, well-being, and stability of those it serves.
The Colorado Coalition for the Homeless may take positions on or advocate regarding public policy issues pertinent to its mission, consistent with the requirements of applicable Federal and state law. However, CCH conducts all its activities in an entirely nonpartisan manner. CCH may acknowledge the elected officials who support us, but we do not endorse, support, or oppose candidates for public office, nor do we intervene in any election on behalf of or in opposition to any candidate or political party.