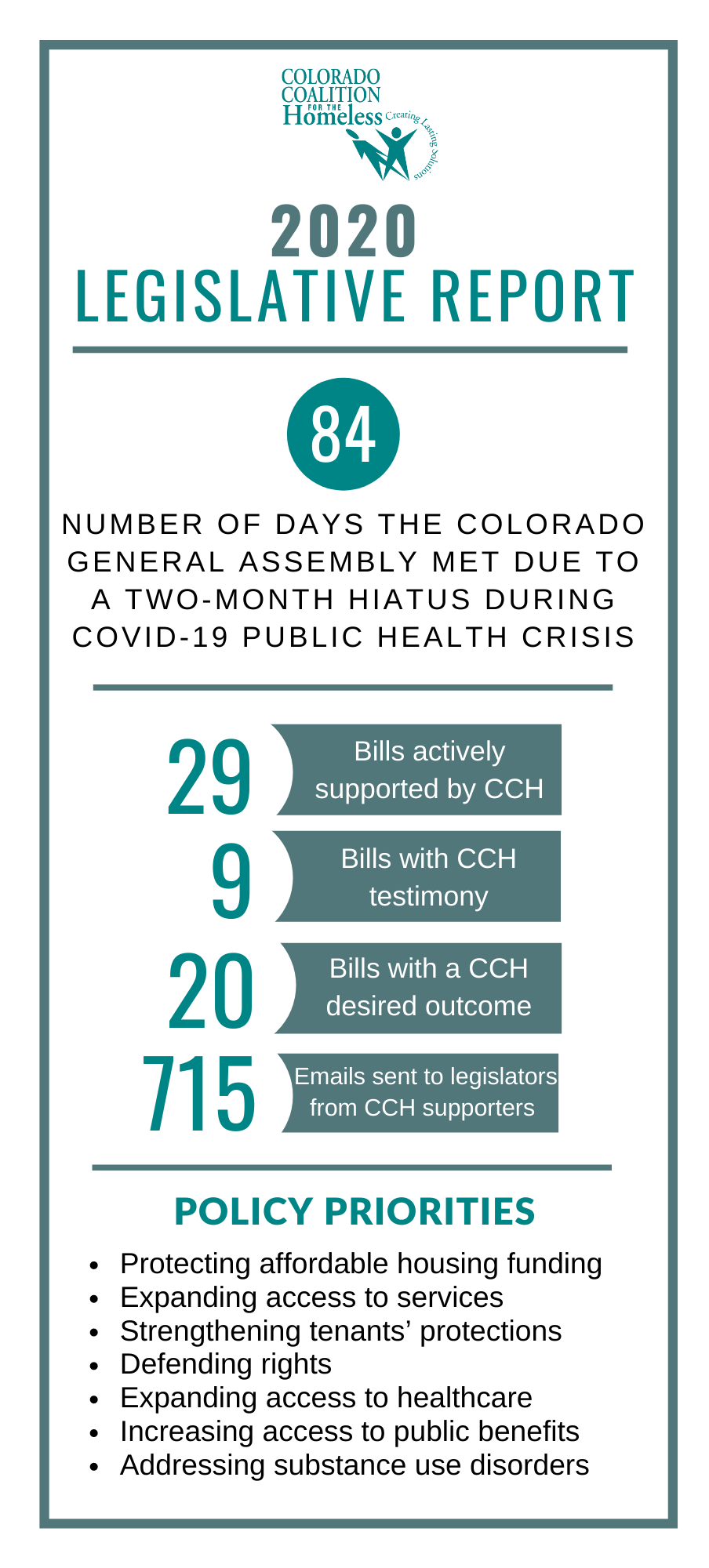 Take Action Now
Join our network of advocates who are speaking up and taking action on behalf of people at-risk of or currently experiencing homelessness in Colorado and across the country.
Our 2020 Legislative Priorities
In order to support the Coalition's work to provide integrated housing, healthcare, and support services to clients, the Education and Advocacy team explores and challenges the mechanisms that perpetuate homelessness in our communities.  
HOUSING AND HOMELESSNESS FUNDING
The Colorado Coalition for the Homeless believes that housing is a basic human right. While 2019 was a historic year for obtaining funding for affordable housing, these dollars will require ardent protection. Additionally, Colorado does not have a strategy or funding source for homelessness services, supports, and prevention. The Coalition will pursue funding and other resources to address Colorado's homelessness crisis and work to ensure that the development of affordable housing units, rental assistance, and supportive services are funded at the level necessary to meet Colorado's housing needs.
RENTERS' PROTECTIONS
The best way to address homelessness is to prevent it from happening in the first place. Colorado's landlord tenant laws continue to leave renters vulnerable to eviction, displacement, and homelessness. The Coalition is committed to leveling the playing field by supporting legislation that prevents discrimination, ensures families and individuals can live in the communities of their choosing, and improves the fairness of the eviction process. Strengthened renters' protections will prevent homelessness and help support families and individuals on a path to stability.
HEALTHCARE
The Coalition will continue to work toward expanding access to integrated physical and mental health care options for Coloradans with limited resources. The Coalition will advocate vehemently to preserve the substantial gains our state has made through Medicaid Expansion and defend the funding and systems that allow our Stout Street Health Center which serves over 14,000 people each year to remain in operation. We will support efforts to make Medicaid reimbursement available for telemedicine and for nontraditional professionals who deliver critical supportive services that keep people housed successfully.
SUBSTANCE USE DISORDERS
The Coalition will support efforts to expand resources for those experiencing substance use disorders. The Coalition intends to support measures to improve public health and connect people with housing and recovery resources, including supporting Supervised Use Sites to prevent deadly overdoses and the spread of disease.
CRIMINAL JUSTICE REFORM
The Coalition is committed to addressing the overuse of the criminal justice system – in place of real solutions like appropriate behavioral health care, services, and crime prevention. In order to prevent recidivism and homelessness, it is critical to ensure a smooth transition into housing, health care, and the workforce. Colorado benefits when returning citizens can contribute fully to their communities, support their families, and maintain community bonds.
To view the 2020 Legislative Report, click HERE >>
Meet Your Elected Officials
Federal Officials
Learn more about your elected officials in Congress and how to contact them.
Contact your Colorado Senators
Contact your Colorado Representatives
State Elected Officials
Learn more about your Colorado General Assembly.
Find the legislators that represent YOU, how to contact them, bills they've introduced, committees they serve on, and political contributions they've received.
Denver City Elected Officials
Contact your members of Denver City Council.
Find free, factual, unbiased information on all your elected officials at www.votesmart.org
CCH Properties and their Elected Officials
See who represent's the Coalition's many properties Here.
Learn How to Advocate
Who is an Advocate?
An advocate is passionate about a specific issue and works to influence others to support their cause. There are many ways to advocate. This can range from sending an email or making a phone call, to asking legislators to a coffee meeting, or even testifying.
When planning to speak with a policy-maker, remember to:
Be prepared and educated
Be concise
Be compelling
Look for a compromise
Stay professional
Do not send nasty emails or messages
Want to learn how to lobby? Check out LOBBYING 101 from the National Coalition for the Homeless.
How to Become a Successful Advocate
Know the Current Events
Sign Up for Our Emails! 
Read, learn, connect. Read our weekly Homelessness in the News emails on issues impacting people experiencing or at risk of homelessness. By signing up for Homelessness in the News, you will also receive Action Alerts on legislative issues as they arise throughout the year. Knowing is half of the equation—participating is the other.
Know Your Elected Officials
Take a moment to visit our Meet Your Elected Officials section above. There, you can find who each of your representatives are and how they traditionally vote on issues that are important to you. Being informed arms you with the information on when and how to engage with your elected officials in your own personal advocacy efforts.
Know Our National Partners
Organizations across the country are joining in the fight against homelessness and greater access to housing and health care. Find more information and resources about national organizations and their advocacy efforts here: National Organizations
Statement of Nonpartisanship
The Colorado Coalition for the Homeless is a private, nonprofit organization recognized as exempt from Federal income tax under Section 501(c)(3) of the Internal Revenue Code. The mission of the Colorado Coalition for the Homeless is to work collaboratively toward the prevention of homelessness and the creation of lasting solutions for homeless and at-risk families, children, and individuals throughout Colorado. CCH advocates for and provides a continuum of housing and a variety of services to improve the health, well-being, and stability of those it serves.
The Colorado Coalition for the Homeless may take positions on or advocate regarding public policy issues pertinent to its mission, consistent with the requirements of applicable Federal and state law. However, CCH conducts all its activities in an entirely nonpartisan manner. CCH may acknowledge the elected officials who support us, but we do not endorse, support, or oppose candidates for public office, nor do we intervene in any election on behalf of or in opposition to any candidate or political party.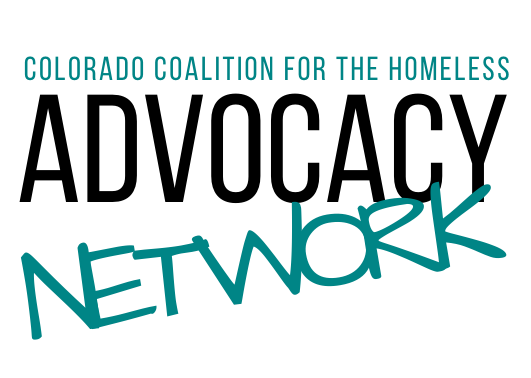 We love advocacy at the Colorado Coalition for the Homeless. We are all about working toward lasting solutions to homelessness and housing insecurity. We love empowering ourselves and the people around us to have a say in how our community cares for each other. We love the movers and shakers, the read-until-morning-ers, the so-passionate-I-can't-help-but-yell-ers. We think you're all awesome, and we want you to join us!
Next Training date:
COMING SOON!
Food (and some sweet swag!) will be provided. Bring your A-Game. We've got work to do!