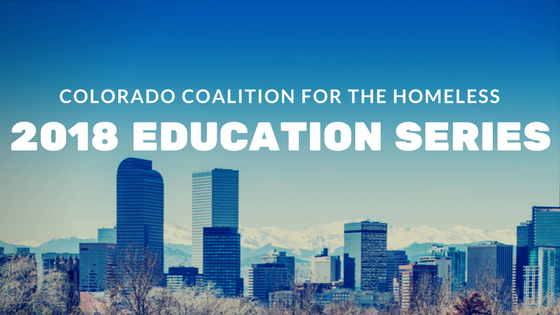 Join us for a series of panel discussions about issues facing people experiencing
homelessness in Colorado. Let's debunk myths, bring these issues to light,
and build a more thoughtful community.
5:30pm - 7:00pm
Stout Street Health Center
Community Room
2130 Stout Street | Denver 80205
Our monthly events are FREE and open for everyone to attend. 
Please RSVP by registering for each event below.
Questions? Email Meredith Ritchie at mritchie@coloradocoalition.org
Upcoming Events:
October 24
How Domestic Violence 
Relates to Homelessness
Register HERE
November 28
PTSD Beyond War
Register HERE
Past Events: 
January 3
Be a Changemaker: How to Advocate
January 24
Human Trafficking in Our Back Yards
February 28
From Redlining to Gentrification: How Race Plays a Role
March 28
How Food Accessibility is Changing Our City
April 25
Far From Home: How Child 
Abuse Relates to Homelessness
Resources for Education
May 23
If We Talked About Mental Health 
Like We Do Physical Health
Resources for Education
June 27
Kicked Out for Coming Out: 
LGBTQ and Homelessness
Resources for Education
July 25
The Criminalization of Homelessness
Resources for Education
August 22
How Supervised Injection Facilities 
Play a Role in Recovery
Resources for Education
September 26
Out of Reach: What Are We Doing to 
Even the Playing Field for Renters?
Resources for Education