Colorado Coalition for the Homeless is closely monitoring the Coronavirus (COVID-19) outbreak and response as it continues to evolve. We are taking every precaution to prevent and control the potential spread of the virus within our housing, healthcare, and support service facilities and the community.
HOW YOU CAN HELP
DONATIONS: We are adding health care staff, paying for motel nights as emergency housing, and are going through personal protective equipment and cleaning supplies quickly to keep staff and patients safe. This is expected to cost the Coalition an extra $1.4 million over our budget in the next four months. We need your help, and we need it urgently. Please make a donation HERE. 
AMAZON WISH LIST: We are asking for donations of items that are of greatest need today. Please consider placing an order off of our Amazon wish list HERE.
WORK WITH US: We are currently seeking temporary Medical Assistants, CNAs, EMTs, case managers, behavioral health providers, and RNs to assist us in our response efforts. Click HERE to search available positions and apply. 
People experiencing homelessness may qualify for the COVID-19 Economic Impact Payment. The deadline to register is November 21, 2020. Learn more here>>
CCH SERVICES UPDATES
Please note the following regarding Coalition services:
HEALTH SERVICES:
**For anyone needing Activated Respite due to the current COVID-19 pandemic, please visit our Activated Respite page, HERE.**
Healthcare services will no longer be available at the following locations: Health Outreach Program (The HOP), West End Health Center, and the health clinic at St. Francis Shelter. 

Stout Street Health Center (SSHC) is currently operating at normal business hours for Monday, Tuesday, Thursday, and Friday. Wednesday hours have changed to 9:00am-6:00pm.

Established SSHC patients with currently scheduled appointments should plan to attend those appointments. This includes primary care visits, behavioral health visits, vision care, dental care, and pharmacy pick-up.

Established SSHC and non-established patients experiencing symptoms such as coughing, fever, or shortness of breath or believed exposure to COVID-19 can seek medical assistance at SSHC where they will be triaged, evaluated for testing, and treated if necessary. 

Non-established patients can still access Stout Street Health Center during normal business hours for other urgent medical needs. 
HOUSING AND SUPPORT SERVICE PROGRAMS:
Please see individual program pages for current walk-in and business hours. 

Established clients will continue to receive communications from their case managers through email or phone calls. 

Our Native American Talking Circles are canceled until further notice.
Denver Joint Task Force
Persons experiencing homelessness are exceptionally vulnerable to COVID-19, secondary to age, substantial comorbidities, lack of access to adequate hygiene, and inability to self-isolate or quarantine. This is compounded by crowding in shelters and encampments, and limited available sites for isolation and quarantine.2 Limiting the spread of COVID-19 among persons experiencing homelessness is critical to the health of our entire community. If COVID-19 spreads rampantly in the homeless population, this will contribute to a rapid and significant spike in use of hospital resources, resulting in a catastrophic decrease in hospital capacity in the Denver metropolitan region. All efforts focused on "flattening the curve" may be for naught if COVID-19 is able to spread rapidly throughout the homeless population.
Live Updates on COVID-19 Planning and Response for Persons Experiencing Homelessness from the Denver Joint Task Force Available here >>
Click here for Denver Joint Task Force Recommendations: COVID-19 Planning and Response for Persons Experiencing Homelessness in the City and County of Denver >>
Click the infographic below for more information on testing.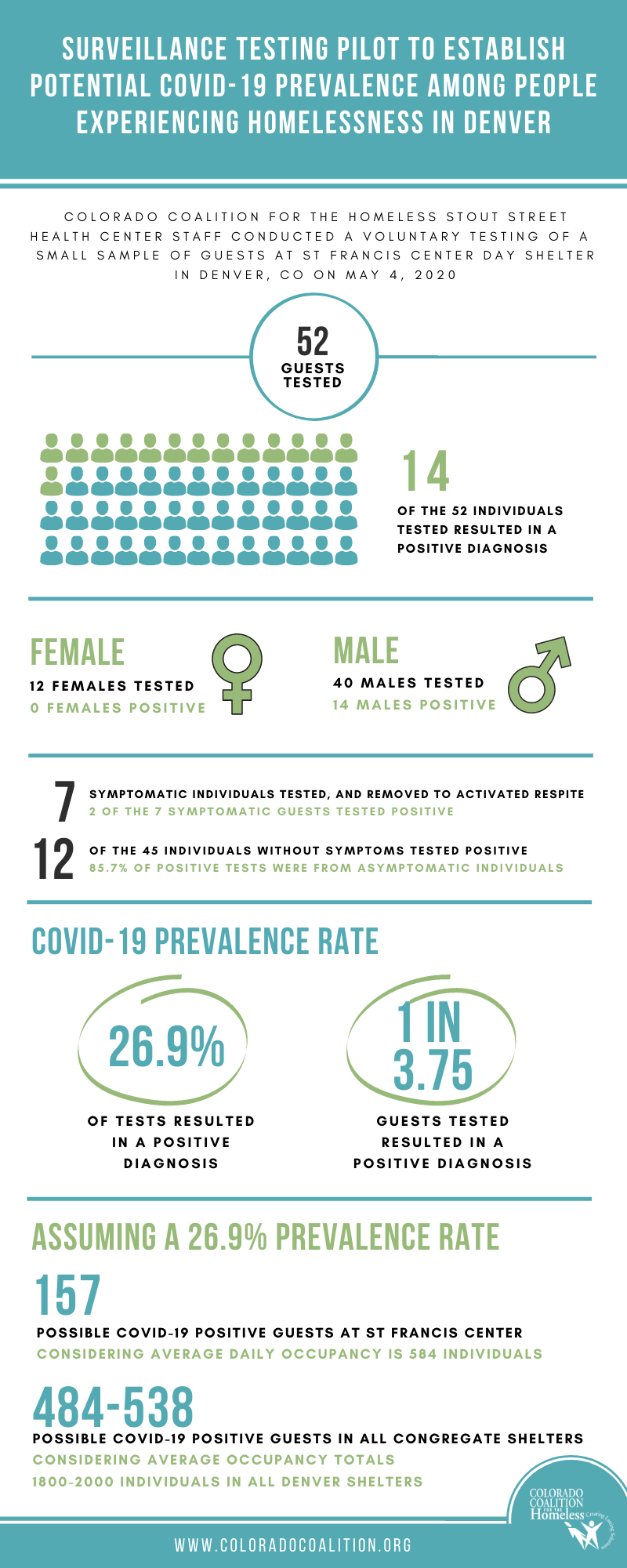 First pilot testing of people
experiencing homelessness to 
determine prevalence HERE>> 
Testing among people utilizing temporary
shelter. Full page
available HERE>>

Testing among people who were unsheltered
in June. Full page available HERE>>

Testing among people utilizing shelter system.
Full page available HERE>>

Testing among people who were unsheltered
in July. Full page
available HERE>>