Health Outreach Program (HOP)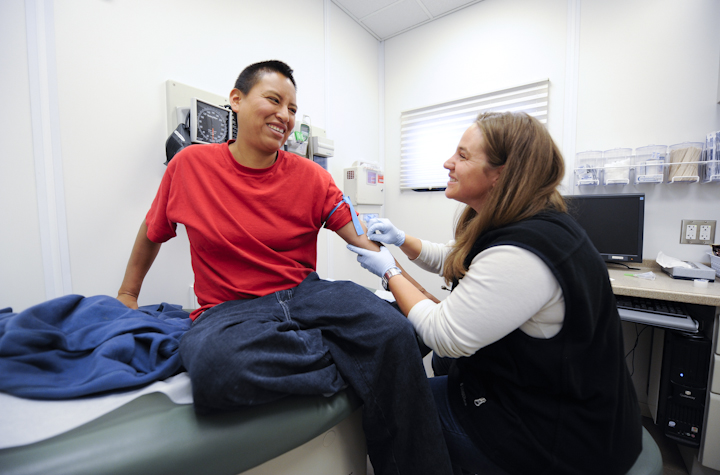 The Coalition's Health Outreach Program (HOP) was founded in 2002 to increase access to health care. By taking healthcare on the road, we are able to provide services in a variety of Denver locations and during evening hours. 
The mobile medical clinic travels with a Medical Assistant accompanied by a Physician, Physician Assistant, or Nurse Practitioner. On board, HOP providers run two treatment rooms, a small pharmacy, and a lab. New patients are welcome to walk-in for care at any location. The primary goal of the HOP is to provide care for every patient onsite, and to encourage follow-up care at the Coalition's Stout Street Health Center.
The HOP schedule is available here>>
SERVICES
HOP services include:
Diagnosis and treatment of acute and chronic illnesses
Foot and wound care
Gynecological services
Tuberculosis (TB) testing
Vaccinations (Flu, TDAP, Hep A, and Hep B)
STD exams and treatment, HIV and Hep C screenings
General health maintenance
WHAT TO BRING
No need to bring anything with you, nor do you need insurance in order to be seen.
However, it is helpful, but not required to bring the following items:
Photo ID or other form of identification
List of current medications (or even the bottle)
Medicaid card, if you have one
Any paperwork you received, if recently discharged from a hospital
CONTACT
Carrie Thompson
HOP Coordinator
HOP Number:(303) 297-4089 
Office: (303) 312-9523
Health Center: (303) 293-2220
---
---
As a Federally Qualified Health Center (FQHC), the Colorado Coalition for the Homeless' (CCH) health care system is eligible for Federal Tort Claims Act (FTCA) medical malpractice liability protection. CCH is a Health Center Program grantee under 42 U.S.C. 254b and deemed a Public Health Service employee under 42 U.S.C. 233(g)-(n).