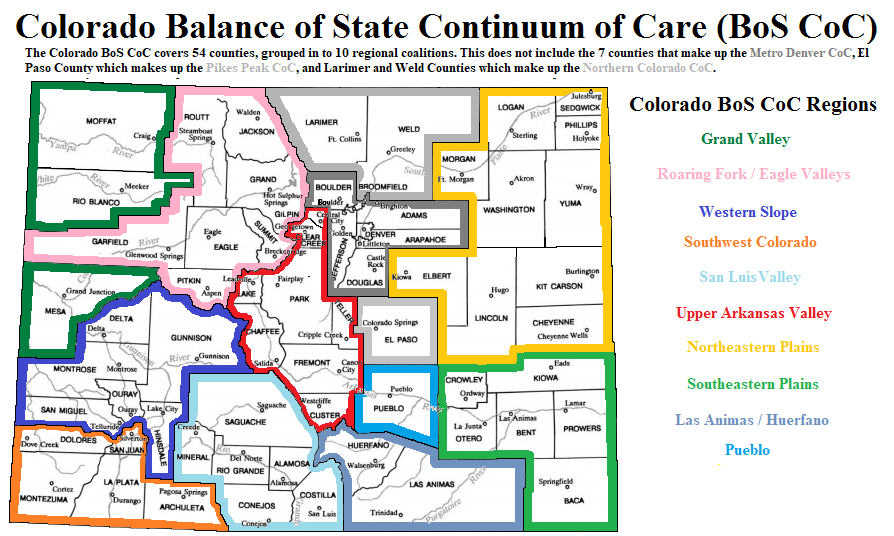 This pages outlines the structure of Colorado's Balance of State Continuum of Care (CO BoS CoC). 
The Balance of State CoC is organized into 10 regional CoC planning groups:
Northeastern Plains: Morgan, Logan, Sedgwick, Phillips, Washington, Yuma, Elbert, Lincoln, Kit Carson and Cheyenne Counties
Southeastern Plains: Crowley, Otero, Kiowa, Bent, Prowers and Baca Counties
Pueblo Region: Pueblo County
Las Animas and Huerfano Region: Las Animas and Huerfano Counties
Upper Arkansas Valley: Fremont, Chaffee, Custer, Lake, Clear Creek, Gilpin, Park and Teller Counties
San Luis Valley: Alamosa, Saguache, Costilla, Conejos, Mineral and Rio Grande Counties
Western Slope: Montrose, Delta, Ouray, San Miguel, Gunnison and Hinsdale Counties
Southwest Colorado: La Plata, Montezuma, Dolores, San Juan and Archuleta Counties
Grand Valley: Mesa, Moffat and Rio Blanco Counties
Roaring Fork/Eagle Valleys: Garfield, Eagle, Pitkin, Summit, Routt, Grand and Jackson Counties
Please see the CO BoS CoC Governance Charter (Updated 7/2022) for more detailed information.
Colorado Balance of State Continuum of Care Strategic Plan
The CO BoS CoC has been working on their strategic plan this past year and updated the plan in September 2019 to help align goals and strategies with State and Federal plans to make homelessness rare, brief and one-time. The updated plan covers 5 main areas and is reflected in strategic goals through the next 3 years by the CoC. The 5 main areas are:
Coordinated Entry Utilization, Quality and Support.

The BoS CoC focuses on a measurable increase in utilization of, quality of, and resources supporting coordinated entry across regional communities of underserved populations. We work to increase staffing specifically for Coordinated Entry and prioritize building the capacity of coordinated entry and CES activities like Diversion and Prevention.

HMIS Utilization and Coordinated Entry in HMIS.

The BoS CoC focuses on a strategy to improve HMIS utilization and build Coordinated entry into HMIS across the BoS CoC communities, including automated processes for Diversion & Prevention, Youth in CES Process, etc. Also utilizing a masked approach for DV Providers either required to or who would prefer to use an HMIS Comparable Database.

Data Focus, Storytelling, & Local Champions.

The BoS COC focuses on quality data through HMIS and comparable databases, storytelling and local champions by continually understanding how programs are serving participants through a lens of equity with a focus on racial equity. We do this through the collection and understanding of data, which we use to share best practices across our communities to advance housing justice and reduce homelessness. This includes highlighting local champions who access and provide services in communities, making our systems more equitable by responding to data disparities real-time and using the information to build-up regional coalitions.

Support Creation of Affordable and Supportive Housing across the BoS CoC. (Rapid Rehousing, Permanent Supportive Housing, other types of Affordable Housing and Supportive Housing interventions that are supported by the community, including people with lived experience.)

The BoS CoC supports the Creation of and Implementation of true Affordable and Supportive Housing programs and stock across the state, with a focus on proven solutions to housing people experiencing homelessness: Permanent Supportive Housing, Rapid Rehousing, Affordable Housing, Housing with Supportive Services, Collaboration of housing providers to expand services to those that are experiencing homelessness.

Increase CoC Score

Bring additional funding to the BoS CoC by working to increase the overall BoS CoC Score in our annual program competition. We do this by working together to understand Federal and State goals and align them with those of the Communities we serve. We will also work to educate ourselves and our communities in best housing practices while advancing housing justice in rural communities at the Federal and State level through advocacy and promoting best practices.
*Click the + to the left of the text below in order to expand!