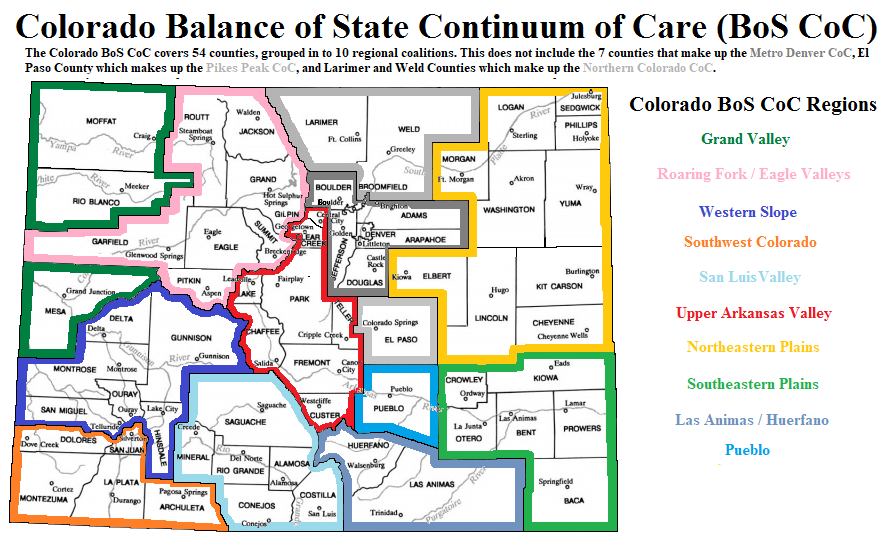 General Questions about Colorado's Balance of State Continuum of Care (Rural Counties working on Homelessness in Colorado) should be directed to:
E. BoSCoC@coloradocoalition.org W. www.coloradocoalition.org/BoSCoC
Want to become a member of your counties Regional Homelessness Coalition?
The BoS Governing Board representatives for each region generally lead local coalition meetings to work collaboratively on their region's homelessness response strategy.
Any interested person or entity can become involved with Balance of State Continuum of Care regional homelessness coalitions. Meetings generally occur monthly or quarterly depending on the geographic area and are open to interested parties! 
There is also interest in finding community members and stakeholders who have knowledge of homelessness in your community and/or who are now experiencing or have experienced homelessness in the past. The BoS CoC is also working to better understanding racial disparities in services and working to make sure Black, Indiginous, Latin(a),(o),(x), people from south and east Asia and other populations who are overrepresented in homelessness in Colorado and across the country are served equitably and with dignity. We recognize that your voices, experience, and leadership are integral parts of making homelessness rare, brief, and one-time locally and across Colorado.
Are you interested in being part of a statewide collaborative working to find lasting solutions to homelessness across Colorado? Click here to introduce yourself and get more information! 
You can also contact a local representative if you're interested by continuing to scroll!
*Click the + sign to the left of the drop-down below to expand the text.