CONTACT
Carrie Thompson
HOP Coordinator
Office: (303) 312-9523
Cell: (720) 495-0393
Health Center: (303) 293-2220
LOCATIONS & HOURS*
Tuesday: 8:00 am – 12:00 pm
at Father Woody's 1101 W. 7th Ave, Denver
(TB testing available)
Tuesday: 4:00 pm – 7:00 pm
at Denver Rescue Mission 1130 Park Ave West, Denver
(TB testing available)
Wednesday: 12:00 pm – 4:00 pm
at The Gathering Place 1535 High Street, Denver
(Women only)
Wednesday: 5:00 pm – 8:00 pm
at Crossroads 1901 29th Street, Denver
Thursday: 9:00 am – 12:00 pm
at Father Woody's 1101 W. 7th Ave, Denver
Friday: 8:00 am – 12:00 pm
at Christ Body Ministry 850 Lincoln Ave, Denver
(TB testing available)
*Schedule subject to change due to severe winter weather, mechanical failure, and/or new site additions.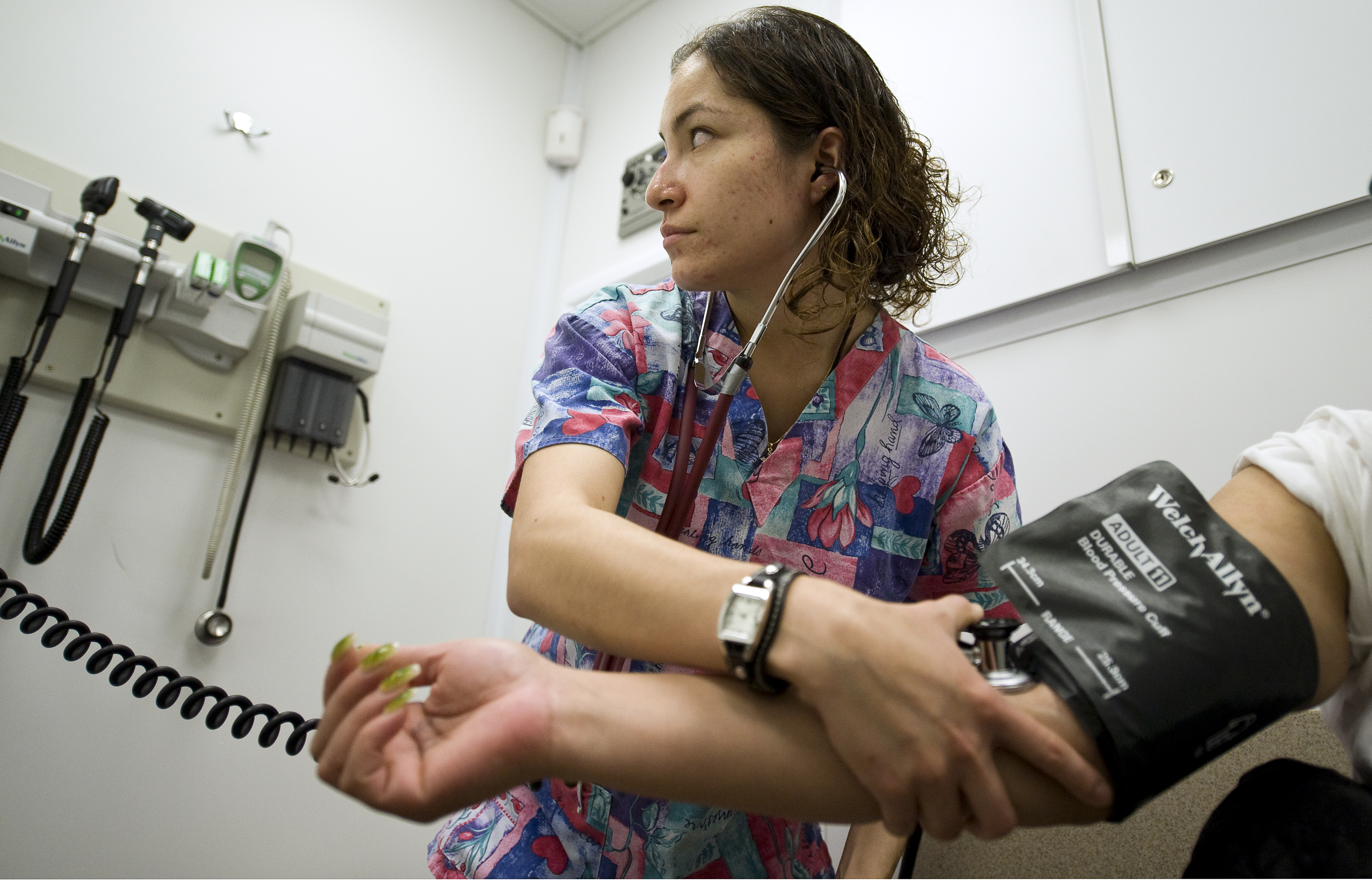 Program Overview
The Coalition's Health Outreach Program (HOP) was founded in 2002 to increase access to health care for the homeless. By taking health care on the road, and delivering health care in the evening hours, the HOP helps address typical barriers to health care such as lack of transportation or scheduling difficulties for the working homeless.
Each week, the mobile medical clinic makes scheduled stops at homeless shelters and drop-in centers across Denver. The HOP is a gateway to engage in integrated medical, behavioral, dental, and vision care.
The mobile medical clinic travels with a Medical Assistant accompanied by a Physician, Physician Assistant, or Nurse Practitioner. On board, HOP providers run two treatment rooms, a small pharmacy, and a lab. New patients are welcome to walk-in for care at any location. The primary goal of the HOP is to provide care for every patient onsite, and to encourage follow-up care at the Coalition's Stout Street Health Center.
HOP services include:
Diagnosis and treatment of acute and chronic illnesses
Foot and wound care
Gynecological services
Tuberculosis (TB) testing
Vaccinations (Flu, TDAP, Hep A, and Hep B)
STD exams and treatment, HIV and Hep C screenings
General health maintenance

What to Bring
No need to bring anything with you, nor do you need insurance in order to be seen. However, it is helpful, but not required to bring the following items:
Photo ID or other form of identification
List of current medications (or even the bottle)
Medicaid card, if you have one
Any paperwork you received, if recently discharged from a hospital