The Colorado Coalition for the Homeless Annual Report shows our progress in Creating Lasting Solutions to Homelessness. It includes information about our organization's growth and an overview of work completed during the past year.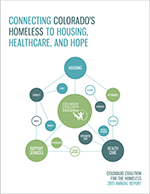 Connecting Colorado's Homeless to Housing, Healthcare, and Hope
2015 was a challenging as well as a rewarding year. As the predominant provider of housing and services to those experiencing and at-risk of homelessness, the Coalition served 15,774 adults and children with physical, mental health, dental, and vision services, as well as affordable and supportive housing and an array of support services.